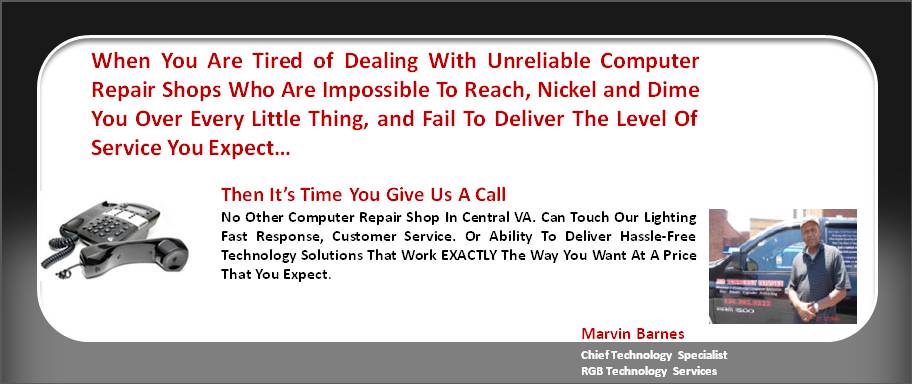 Serving Farmville VA. And Surrounding Areas

434-392-9222 or 1-888-294-1251


RGB Technology Services be Closed on the following Holiday Days:
* New Year's Day 1/1/15.
* Memorial Day 5/25/15.
* Independence Day 7/4/15.
* Labor Day 9/01/15
* Thanksgiving Day 11/27/15 and 28th, 29th, and 30th of Nov. 2015
* Christmas Day 12/25/15. And will not open until Jan. 2, 2016


PC and laptop repairs in Farmville, VA and surrounding areas
IPAD glass replacement service
Professional soldering services
Complete PC failure fix
Data and disaster recovery
Email and software problems
Operating system failures
Preventative maintenance
Support when you need it

Network hardware sales
Network wiring and configuration
Wireless setup and security
Wireless device configuration
Custom rackmount servers
File Server Installation
Switch installation
Web Server/Domain/Site Design

Save on hiring in-house help
There when you need service
Remote connect troubleshooting
Software installations
Backups and PC maintenance
More experience than employees
Maintenance agreements
Server backup monitoring
Email support
New office computer systems
Networking

Located in Farmville1012 W. 3rd St. we provide exceptional and affordable service! Before you go to Best Buy and get ripped off, save the money because you will experience a service that you deserve. We service by appointment only. We have repaired systems on Sunday for customers. We know that with so many choices it's hard to pick the right company, but give RGB a try and you won't be sorry that you did! All of our customers come from referrals from other satisfied customers. If personal service is what you desire, RGB Technology Services is your answer. We truly care about your problem and in most cases can resolve it fairly quickly.

Fix your PC without a visit
Solves problems remotely
Remove viruses and spyware
Troubleshoot problems
Configure/Install software
Secure connection to your PC
Plans available for business
Safe and secure!